Dec. 29, 2013 5:10 p.m.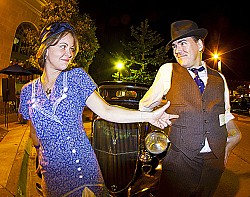 An illustrious modern day Bonnie and Clyde managed to swing through 15 banks in Florida and Alabama over the last few months before being finally caught by authorities -- fortunately, they were taken in peacefully, rather than in a storm of bullets. Impressively, our "Bonnie" was just ten days away from delivering her baby at the start of the robberies, several of which took place during her subsequent maternity leave from her legitimate employment (at a bank, no less): evidently, maternity benefits aren't part of the package when you're a bank robber!



Their haul wasn't terribly impressive (a little over $55,000), which we suppose means they weren't the greatest of bank robbers.  See full article.